Here I publish my 5‑Track Sonogram Analyis of Gesang der Jünglinge im Feuerofen by Karlheinz Stockhausen. You can use it pri­va­te­ly for free. If you use it in a pro­fes­sio­nal envi­ron­ment, plea­se cite my authorship.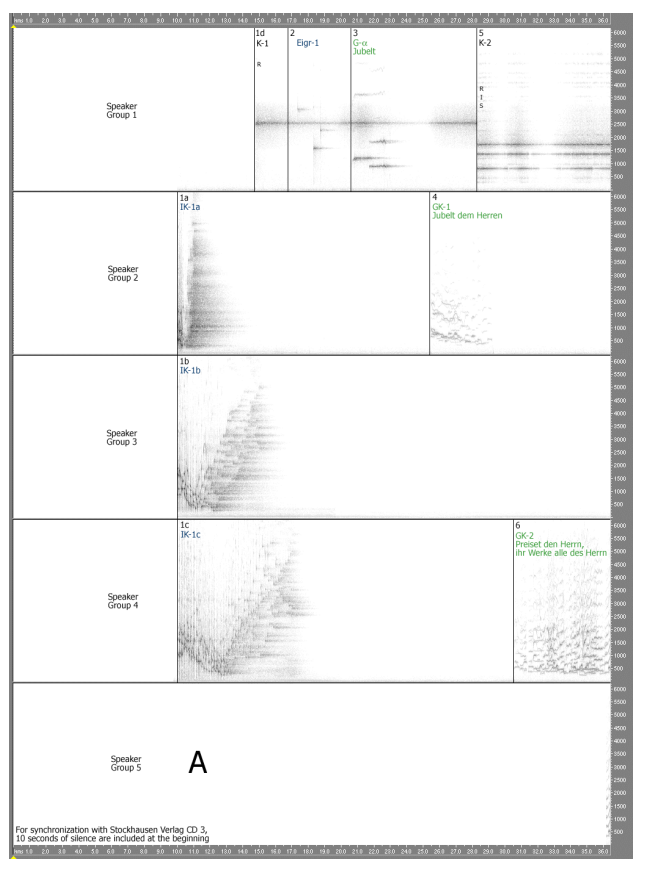 It is an ana­ly­tic work made up of sono­grams for each of the five tracks that were ori­gi­nal­ly meant to be per­for­med as such. My ana­ly­sis can be read like a score — the sym­bols in the score offer the pos­si­bi­li­ty to con­nect back to the sketch mate­ri­als and dive deeper into each sound in the music.
The exten­si­ve publis­hed sketch mate­ri­als for this semi­nal work in the histo­ry of modern music — having an unear­thy beau­ty to it in my view — are avail­ab­le from the Stockhausen Verlag:
Exerpt of Stockhausen Verlag cata­log (link)
1955–56

GESANG

DER

JÜNGLINGE

(

SONG

OF

THE

YOUTHS

) Electronic Music
Facsimile Edition 2001
(spe­cial edi­ti­on of all the sket­ches in colour)
(308 bound paes, hard cover)
Please lis­ten to the music, if you are unfa­mi­li­ar with this work:
Have fun!