I ear­ned a cum lau­de doc­to­ran­dus degree (Drs.) — the equi­va­lent of a Masters degree — at the University of Amsterdam in the Netherlands. My spe­cia­liz­a­ti­on was Computational Musicology and I wro­te my the­sis on stra­te­gies to mathe­ma­ti­cal­ly gene­ra­te sounds with the assi­s­tance of the com­pu­ter. The sound models — along with code, descrip­ti­ons and gra­phi­cal repre­sen­ta­ti­ons of the­se "com­pu­ter instru­ments" — can be seen in the final doc­to­ran­dus the­sis (equi­va­lent of M.A. the­sis): the Amsterdam Catalogue of Csound Computer Instruments.
I was then offe­red a tea­ching assi­stantship in the United States at the University at Buffal (SUNY) , at Lake Erie in the vicini­ty of the Niagara Falls.
There taught Music History to under­gra­du­te stu­dents, took fur­ther gra­dua­te cour­se and final­ly ear­ned a Ph.D. in Music. My dis­ser­ta­ti­on on the histo­ry of moder­nistic ide­as in the 20th cen­tu­ry focu­sed on the inter­re­la­ti­ons­hip bet­ween Pierre Boulez, Olivier Messiaen, Karlheinz Stockhausen and the father of it all — John Cage. I enti­t­led my work: "The Origins of Synthetic Timbre Serialism and the Parisian Confluence, 1949–1952."
I explo­red in depth the ways in which moder­nistic ide­as were impac­ted by the big poli­ti­cal events of the 20th cen­tu­ry, most import­ant­ly the rise of fascist ideo­lo­gy and the repres­si­on of art ten­den­ci­es as dege­ne­ra­ted and the flight of many lea­ding intel­lec­tu­als and artists to France and the United States.
An abs­tract of my work is here, should you be inte­res­ted in the topic. A down­load link for the dis­ser­ta­ti­on is here.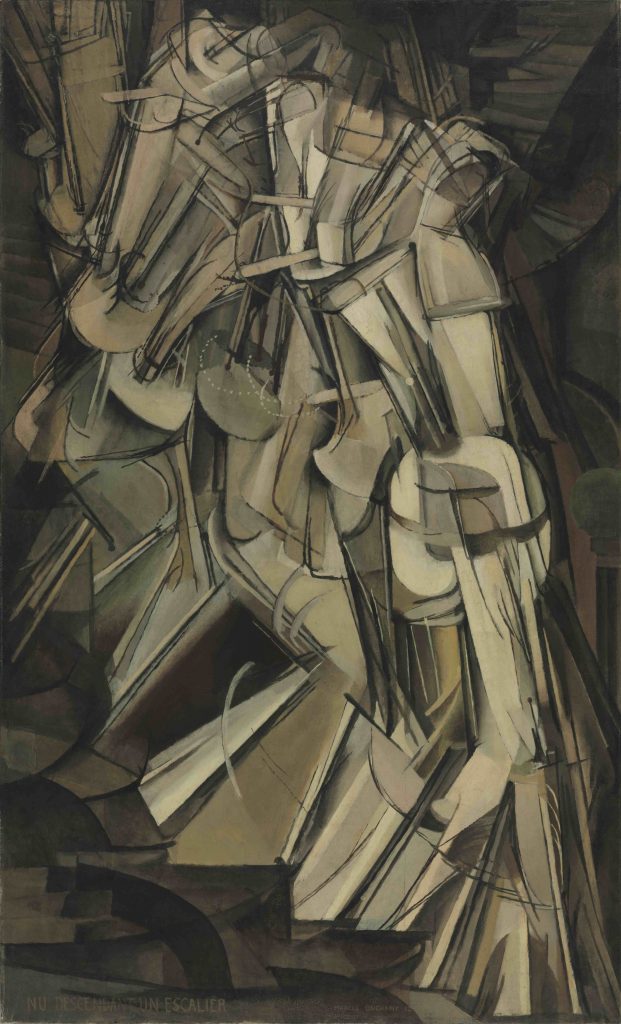 In the pro­cess of sear­ching my dis­ser­ta­ti­on topic I first focu­sed on a qui­te dif­fe­rent topic. I crea­ted sono­gram ana­ly­sis for an ico­nic work of modern music — Gesang der Jünglinge im Feuerofen by Karlheinz Stockhausen. The music was crea­ted in 1956 with ana­log elec­tro­nic tech­no­lo­gy only. When I found the com­po­si­tio­nal sketch mate­ri­als for the com­po­si­ti­on in the New York Public Library I was deeply fasci­na­ted by the ener­gy, com­mit­ment and crea­ti­vi­ty, ari­sing from the­se mate­ri­als. This loo­ked like a daun­ting task to undig the tre­a­su­res of this crea­ti­ve wiz­zard­ry. Stockhausen crea­ted each sound as if it were a minia­tu­re uni­ver­se. I found much beau­ty there.
The music its­elf was crea­ted for five loud­spea­kers ori­gi­nal­ly, four in the hori­zon­tal space and one was ori­gi­nal­ly pla­ced abo­ve the audi­ence. Recordings of a boy sin­ging pas­sa­ges from the Book of Daniel of the bible crea­te a stran­ge sen­se of inti­ma­cy with an unknown world of sounds.
More infor­ma­ti­on on the sono­gram ana­ly­sis, inclu­ding a down­load link.
I got a fur­ther degree at the University of Buffalo, a Masters Degree in Information and Library Sciences, M.L.S. with spe­cia­liz­a­ti­on in Music Librarianship. This was some­what a pie­ce of cake as I had alrea­dy most of the need music cour­ses absol­ved and then only had to add cour­ses in Information and Library Sciences. It was a ratio­nal choice to bring my know­ledge in the music field into a pro­fes­sio­nal field, whe­re jobs were for the taking. Especially with the pres­su­re of having no stay­ing per­mit in the United States, I wan­ted to make sure I could find a job and get a visa for a lon­ger stay at the time I deci­ded this addi­tio­nal qualification.Among other loca­ti­ons I worked for some time as Music Librarian at the Philips Exeter Academy in New Hampshire. In this time I was given the oppor­tu­ni­ty to crea­te a music libra­ry from scratch, buil­ding on a vast amount of gifts from alum­ni, that had been piled up in the cel­lar as well as new­ly bought resour­ces. I am gra­te­ful to my hono­rous tea­chers of music libra­ri­anship — Jim Covey and Carol June Bradley — for pro­vi­ding me with the tools nee­ded to set up a libra­ry with love and in the spi­rit of ser­vice. I am also gra­te­ful to Jackie Thomas, our head in the Class of 1945 Library at Philips Exeter, for her warm sup­port and the oppor­tu­ni­ty to ser­ve as a refe­rence libra­ri­an half-time, sup­por­ting stu­dents in wri­ting their papers on American histo­ry. It feels good to be trus­ted. It was much fun to work on her team and a archi­tec­tu­ral memo­r­able work place as well.
I also got a degree second level (of six pos­si­ble) in pia­no play­ing from the Paris Ecole Normale de Musique de Paris. I sad­ly rea­li­zed and accep­ted that the race for the work of pia­nist in clas­si­cal music was not for me. Today I play music for fun, most­ly on the pia­no. I also like to sing on No Talent Shows in some of the lon­ger NVC trai­nings. And I lis­ten to music with gre­at joy, con­ti­nue to be curious and open for music.