This is the tit­le of Marshall B. Rosenberg's first book­let on a way of com­mu­ni­ca­ting that hel­ps us if we want to con­nect to a spi­ri­tu­al level of expe­ri­ence. I under­stand the term "Life's Sweet Flow" was later repla­ced by "needs". The book­let was publis­hed on January 1, 1976.
The most radi­cal tenet of his tea­ching, as he late­re said hims­elf, beca­me "Do not do anything unless it's play." When we try to live accord­ing to this inten­ti­on, most of us will end up chan­ging how we spend our dai­ly lives a lot.
Marshall Rosenberg found out that in order to live a spi­ri­tu­al life whe­re one feels at one with the body and the mind, in the here and the now, it hel­ps to know what the inten­ti­on behind our actions and thoughts is.
"I've lear­ned that I am more likely to make con­ta­ct with Life's Sweet Flow when I'm doing wha­te­ver I'm doing becau­se it's fun or becau­se I see the act con­tri­bu­ting to the wel­fa­re of others or mys­elf. I don't enjoy living as much when I'm doing what I'm doing to avoid bla­me or punish­ment."
Am I acting from a sen­se of fear or am I acting from a sen­se of joy­ful and wil­ling con­tri­bu­ti­on?
And what hel­ps to live in this consciousness?
Marshall Rosenberg found out that a par­ti­cu­lar kind of hones­ty helps:
"Therefore, I have been deve­lo­ping ways of thin­king about and com­mu­ni­ca­ting with mys­elf and others that enab­le me to live without bla­ming or punis­hing mys­elf or others. This book is about the­se ways of thin­king and com­mu­ni­ca­ting. I have found that when I am honest with mys­elf I have no desi­re to bla­me or punish others."
So hones­ty is a hel­pful anti-dote to our ten­den­cy or habit to bla­me or punish, he found out. But what exact­ly he means when he talks about this par­ti­cu­lar kind of honesty?
"I use the term 'honest with mys­elf' to refer to my abi­li­ty and wil­ling­ness to iden­ti­fy at any given moment:
what I'm reac­ting to,
how I feel,
what I'm tel­ling mys­elf that makes me feel as I do,
and what I want to happen."
So this is one of the pre­cursers of the "Four Steps of Nonviolent Communication" — which later beca­me OFNR — or Observation, Feeling, Need, Request. This is most inte­res­ting to digest and take in.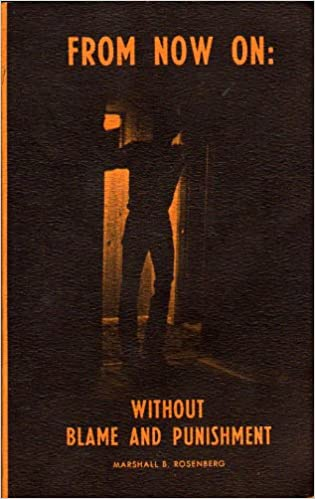 In chap­ters Two through Five I will descri­be how I am deve­lo­ping this abi­li­ty to be honest with myself.
I have also found that when I empa­thi­ze with others I have no desi­re to bla­me or punish them. I use the term 'empa­thi­ze with others' to refer to my abi­li­ty to under­stand to their satis­fac­tion at any given moment what they are reac­ting to, fee­ling, tel­ling them­sel­ves that makes them feel as they do, and wan­ting to hap­pen. This will be the sub­ject mat­ter of Chapter Six.
In Chapter Seven I will out­line some ways of pre­ven­ting, detec­ting, and cor­rec­ting mis­in­ter­pre­ta­ti­ons that might result from being honest and empa­thic in the ways I advocate.
Chapter Eight dis­cus­ses some dif­fe­ren­tia­ti­ons I have made in my thin­king about the use of for­ce which help me avoid puni­ti­ve action.
In Chapters Nine, Ten and Eleven I will then dis­cuss some app­li­ca­ti­ons of being honest with oneself and empa­thic with others in con­flict situations.
If you would like to test your abi­li­ty to under­stand the skills dis­cus­sed in Chapters Two through Six, I have inclu­ded some exer­ci­ses in the Appendix."
Source of this infor­ma­ti­on:
https://www.amazon.com/Now-Marshall-B-Rosenberg/dp/B0006XLXMU
Rosenberg, Marshall B. FROM NOW ON: WITHOUT BLAME AND PUNISHMENT, 1977.
(Author's address: 3229 Bordeaux, Sherman, TX 75090, 21* 1/893‑3886, $3.50.)
A per­so­nal approach to the skills of giving feed­back and cri­ti­cism in a way that pro­mo­tes coope­ra­ti­on rather than con­flict. Makes a per­sua­si­ve state­ment about app­ly­ing the­se tech­ni­ques in all relationships.