(Reading the fol­lowing account from a Swiss International Intensive Training with Marshall, I feel inspi­red and with a wide-open heart. I feel so given to. I am able to touch the visi­on of a world, whe­re all are empowe­red to give from the heart and to recei­ve with the heart — each per­son in their own such­ness, a world of deep beau­ty and mea­ning.
How do you feel after rea­ding the account? Please feel free to share, if you wish, below the text — With gra­ti­tu­de, John)
Situated at almost 1000 meters high in the Swiss Jurassic moun­tains, the semi­nar-hotel Orchidea Lodge offers a beau­ti­ful view far across the land. The expec­ta­ti­ons of the 50 par­ti­ci­pants in Marshall B. Rosenberg´s nine-day International Intensive Training were just as high, when we met for the first time in the big seminar-room.
To my sur­pri­se the­re was a — to put it mild­ly — unusu­al par­ti­ci­pant who had a way of expres­sing hims­elf that see­med very stran­ge to me and remin­ded me of an oran­gut­an rather than a human being. Uwe, as this "being's" name was, moved con­stant­ly, hol­ding a litt­le red ball in his hand, occa­sio­nal­ly hit­ting hims­elf on the head and waving an old cloth in front of his face. Every other minu­te he made undis­cern­ab­le sounds that made ever­y­bo­dy crin­ge. There was no way for any­bo­dy to lis­ten atten­tively with this bund­le of ener­gy in the midd­le of the room. An addi­tio­nal diver­si­on was crea­ted by Lena, a white-hai­red, elder­ly woman who was taking care of him. While try­ing to soot­he him she see­med to be figh­t­ing with him con­stant­ly. Oh gre­at, I thought, this is going to be fun, or rather a handful…and I remem­be­red having heard from an acquain­tance recent­ly that Uwe and Lena had pro­vi­ded a lot of dis­tress and con­flict in ano­t­her seminar.
Marshall, sur­pri­sin­gly, intro­du­ced Uwe after half an hour or so into the semi­nar, adding more con­fu­si­on in so doing. He said: "May I intro­du­ce my col­league Uwe? Uwe knows me bet­ter than I do mys­elf, even if it does not seem so at first glance. He also atten­ded my pre­vious semi­nar and it is good for him to be able to be here." Uwe see­med to under­stand and agreed with a loud "Uuuh-aaah!!!" This was to be the begin­ning of a jour­ney into a stran­ge world that touched ever­y­bo­dy deeply.
But we did not know that yet, and we remai­ned irri­ta­ted. Next to his agi­ta­ti­on we were also con­fu­sed by Uwe´s clum­sy attempts at con­ta­ct, con­sis­ting of taking off a person's sock at light­ning speed, or drag­ging someo­ne down onto his mat­tress. Luckily the­re were also pha­ses when he just slept and his pre­sence was known only through his snoring.
.
The next day began very ear­ly for most of us, at five o´clock in the morning, with Uwe stan­ding at his open win­dow, screa­ming and cry­ing out at the world in inar­ti­cu­la­te sounds. He was stay­ing with Lena in the cen­ter of the house and he see­med to be suf­fe­ring ago­nies. Everybody clo­se, which was pro­bab­ly ever­y­bo­dy in the house, suf­fe­red with him invol­un­ta­ri­ly. Even Oropax fai­led. We got an explana­ti­on during the first sharing of the morning which was ent­i­re­ly dif­fe­rent from what we had expec­ted. It came from Uwe per­so­nal­ly, a writ­ten note that was read to us. It had been writ­ten in "assis­ted typ­ing" on a PC (alter­na­tively on a woo­den board with a key pad). Writing like this means Uwe´s hand is held with a light coun­ter­pres­su­re and he types his sen­ten­ces let­ter by let­ter without loo­king. This is his message:
I am Uwe. I am sor­ry that I´m not able to speak here yet. I am very agi­ta­ted without ver­bal lan­guage and the same hap­pens to my body. I think wit­hin mys­elf I want to speak out loud and then the­re is this block insi­de. Sometimes it screams out of me — that is, like a vol­ca­no that has to erupt, becau­se it is seething insi­de. It hurts me when I frigh­ten peop­le with this — it is a vol­ca­nic erup­ti­on brin­ging some­thing out. It is fier­ce and ok again after­wards. Please do not get too sca­red when it hap­pens again. I hope it does not hap­pen to me in this seminar.
I am very sad becau­se I can hard­ly stand the pain insi­de. I want to dive away from mys­elf into an oce­an — it would have to be an oce­an, so I could be liter­al­ly be-away from the pain, be free of bein­gs figh­t­ing for sur­vi­val becau­se they are food for others. I want to talk about the pain com­ing, not wri­te about it with Lena´s help. Talk, talk, talk — it wants out and I expe­ri­ence it over and over again, the­re is this block insi­de of me then. First it is good to be here now. It is a big pain and what else will hap­pen that is pain­ful, I ask insi­de. And I am fear­ful: now it starts again insi­de of me and it hurts so much. It hurts very much. At first I thought it could not get any worse, it is enough. But then it came back again. Now I am glad to wri­te and gra­te­ful that you, Lena, let us get into the car. If only the pain would stop insi­de of me. I need peace. I want to go to the semi­nar-room to find peace — that´s it.
It was not the last mes­sa­ge. We also expe­ri­en­ced Uwe expres­sing hims­elf live in this way when some­thing was moving him deeply. On one occa­si­on he screa­med all of a sud­den, covering his ears with his hands. This hap­pen­ed when Marshall tal­ked about the dai­ly fight of good ver­sus bad on U.S. TV. The good always defeat the bad vio­lent­ly, and most of the time even kill them righ­te­ous­ly. This is a model of con­flict reso­lu­ti­on that child­ren learn about in almost every movie and TV pro­gram in the US, and on an average child­ren watch TV 6 hours a day. This topic see­med to bear pain­ful memo­ries for Uwe. He loo­ked der­an­ged, screa­ming tormen­ted­ly, he paced to and fro. Marshall just wat­ched him silent­ly, empa­thi­cal­ly. After about 5 minu­tes Uwe crouched on the floor, tee­te­ring, waving a small Swiss flag in front of his face. He then drag­ged one par­ti­ci­pant down towards him, then ano­t­her. They all got com­for­ta­ble, Uwe lea­ning on one and being pam­pe­red by the other. On ano­t­her occa­si­on Uwe drag­ged Marshall down onto the floor, and Marshall stay­ed with him until Uwe was mol­li­fied. These were sce­nes that touched many.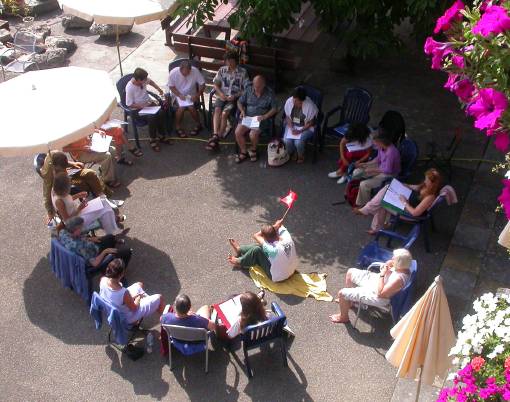 But Uwe could be qui­te a dif­fe­rent per­son, too! He lik­ed to laugh and rejoice, vibra­ting all over his body. He gene­ral­ly loved com­pa­ny and most of all he enjoy­ed being in the cen­ter of the group. During meal­time in a room with a beau­ti­ful view he enjoy­ed sit­ting among the par­ti­ci­pants, being fed by Lena. Afterwards he lik­ed to make fun, gri­macing and picking at the women, laug­hing hap­pi­ly when they reacted.
The next day he sur­pri­sed us all with a per­so­nal gift: Lena had put more than 50 pic­tures face down on the table, pain­ted by Uwe in mono­chro­me colors: main­ly red, yel­low and och­re. The pic­tures were all fur­nis­hed with a short say­ing of his. Everybody was allo­wed to choo­se a pic­tu­re and the fol­lowing text was read aloud:
I am sad again becau­se the pain is here in me. Sad about the way I am, sad that I can­not com­mu­ni­ca­te this ver­bal­ly. Nonetheless I am hap­py to be me and today I am glad to give you the­se pic­tures that are not so much artis­tic work but an expres­si­on of my inner world. I have many pic­tures insi­de of me and I reg­ret not being able to trans­fer them to paper in their full glo­ry, the way I see them insi­de. I would cele­bra­te if you were hap­py about the pic­tures. I pain­ted the big pic­tu­re for you, Marshall. It shows how you trans­port NVC all over the world in the deep desi­re for more peace. Is it pos­si­ble to make a pho­to­graph of it so all the trai­ners can take it home? That´s it
After that the­re was a con­cer­ned silence. Somehow it was just so unbe­liev­a­ble that Uwe could have such a com­pli­ca­ted inner life, as it also show­ed up in his sayings, that some par­ti­ci­pants read out loud now with tears in their eyes.
"Hearts warm up when we do not (live a) fight with each other."

"Great things often hap­pen in hid­den pla­ces"

"Engage in this world by being at peace with yourself"

"I respect the tiniest being. It upsets me when we deva­lua­te it, becau­se it lives its mis­si­on."

"It is cold in this world without warm­th of heart."

"Being right can never bring peace."

"Without darkness the­re is no light, is that clear?"

"First let us talk about the peace wit­hin us, then in the world."

"Dare to show more of what is insi­de of you. It can lead to fun­da­men­tal hones­ty."

"Each of us is a brin­ger of peace or vio­lence. It is up to us what we live."

"Better to feel what is in us, than to think what others think about it."
In the after­noon I had a chan­ce to talk to Fulvia Liebendörfer, who works with autis­tic peop­le.
She told me that in the medi­cal world the rea­sons for autism are gene­tic inter­fe­rence as well as com­pli­ca­ti­ons during birth, or neglect. Therapy is dif­fi­cult. Therapists very rare­ly suc­ceed in hel­ping autis­tic peop­le to speak. On the other hand autists very often have very spe­cia­li­zed skills, for instance a pho­to­gra­phic memo­ry. Uwe pro­bab­ly lear­ned how to read becau­se of that, without any­bo­dy rea­li­zing it for a long time. One look at a black­board or a page in a book is enough for him to be able to read the con­tents later on with his inner eye. Also tele­pa­thy or clai­rau­di­ence belong in this cate­go­ry, as Lena and Fulvia descri­bed accord­ing to their expe­ri­en­ces. Uwe often knows what´s on Lena´s mind or what her plans are without her having said a word about it. Later on Uwe hims­elf gave us an examp­le of this:
I, as someo­ne who is upset insi­de, want to tell you just how dif­fi­cult it is to live in your world. With each semi­nar I learn more and more how bad it is to not under­stand other peop­le insi­de. On the other hand it is a very big strain for me to see your thoughts, and I must take care of mys­elf in order to cope with that. Believe me, I am also ful­ly pre­sent even when I am asleep. First I can give mys­elf some empa­thy, then I can sort out your words bet­ter, and your thoughts, and find out bet­ter who thinks what. As a mat­ter of fact I can sort mys­elf pro­per­ly, bet­ter that way. That´s it.
Another examp­le: an autis­tic boy sees a car com­ing at him on a small street. He has lear­ned to dodge cars .His careta­ker wants to lead him off the street and to her ama­ze­ment he remains obsti­na­te, and she sees how the car turns off into a small sidestreet just in front of them. Coincidence or pre­vi­si­on? Fulvia is con­vin­ced of the latter.
Uwe seems to be empa­thic to the other participant´s inner pro­ces­ses, even if one can­not rea­li­ze it on the out­side. One hot after­noon Marshall announ­ced a healing-ses­si­on and he accom­pa­nied a par­ti­ci­pant through a one hour pro­cess of rage, hel­pless­ness, pain and grief. Uwe sat still all through the ses­si­on, just waving his litt­le Swiss flag. The next morning Lena read the fol­lowing mes­sa­ge to us:
I am very impres­sed by your pro­cess, Frank. I am so glad that my own aff­lic­tion that I have becau­se of not being able to speak, that I expres­sed in the text hel­ped you do it. It gave me cou­ra­ge that I will also make it some day. I thank you for achieveing it. Very good to know how the need is wit­hin you, too. Thank you Marshall, thank you all, thanks to the spi­rits who came to help. Thanks to the uni­ver­se and its abundance. It feels good to wri­te this now. It hurts to not be able to say it.
Like so many times befo­re the par­ti­ci­pants expres­sed their con­cern and their gra­te­ful­ness for what they were able to expe­ri­ence with Uwe, and to learn by being with him. Meanwhile he was an inte­gral part of the semi­nar. Often now he was with us on his own, eit­her on the ter­race or in the semi­nar-room. Lena loo­ked more and more rela­xed every day, becau­se the respon­si­bi­li­ty was no lon­ger hers alo­ne all day long. No one was envious of her job, that she has been doing for 26 years with Uwe.
After nine days ever­y­bo­dy is hap­py and gra­te­ful that Uwe was part of the group. One par­ti­ci­pant pro­mi­sed to crea­te a calen­der of Uwe´s pic­tures, and to send it to ever­y­bo­dy. I also got to know a new world and I lear­ned how to marvel.
This is Uwe´s final com­men­ta­ry: I greet all the par­ti­ci­pants and thank you for accep­t­ing me. First I des­troy all the stu­pid habits in me now, I do it non-vio­lent­ly. If jack­al-thoughts visit me, I accept them lovin­g­ly becau­se they are a part of me. That way the giraf­fe, that is also a part of me, can grow insi­de. It is very good that now I real­ly can accept mys­elf more and more each day and be affec­tio­n­a­te with mys­elf. That´s it.
A Short Interview with Uwe:
What is your big­gest wish?
"My big­gest wish is to be able to speak."

What is your big­gest pain?
"My big­gest pain is all the pain I have recei­ved from peop­le who think I am mental­ly han­di­cap­ped and who wan­ted and still want to ost­ra­ci­ze me."

What would help you most?
"If I could be a part of it all, just like I was in the semi­nar."

What was your most beau­ti­ful expe­ri­ence in the semi­nar?
"That I was a par­ti­ci­pant like ever­y­bo­dy else, with essen­ti­al per­so­nal pro­blems."

How do you per­cei­ve other people´s thoughts? Do you hear them?
"I hear the thoughts insi­de, not with my ears. It is a means of inner tele­pa­thy. Talking is not a means of inner tele­pa­thy but spea­king out loud of thin­king. It is a method that spea­king peop­le for­get if they can­not lis­ten with their inner ear."

What was the big­gest dif­fi­cul­ty for you in the semi­nar?
"To not be able to voca­li­se what I think and feel."

What would you like to tell the rea­ders of this arti­cle?
"Be atten­ti­ve if you see so-cal­led mental­ly han­di­cap­ped per­sons, they have their own inner cha­rac­te­ris­tics of inner value."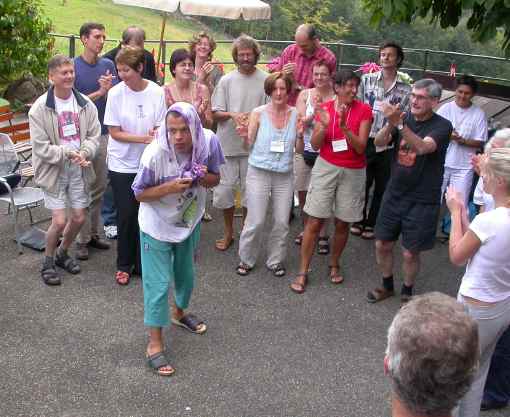 Published with kind per­mis­si­on by the aut­hor David Luczyn, his own page with this account and a few more images you can find here.