Irma Gather (1903–1994) tells of her child­hood and youth up to 1921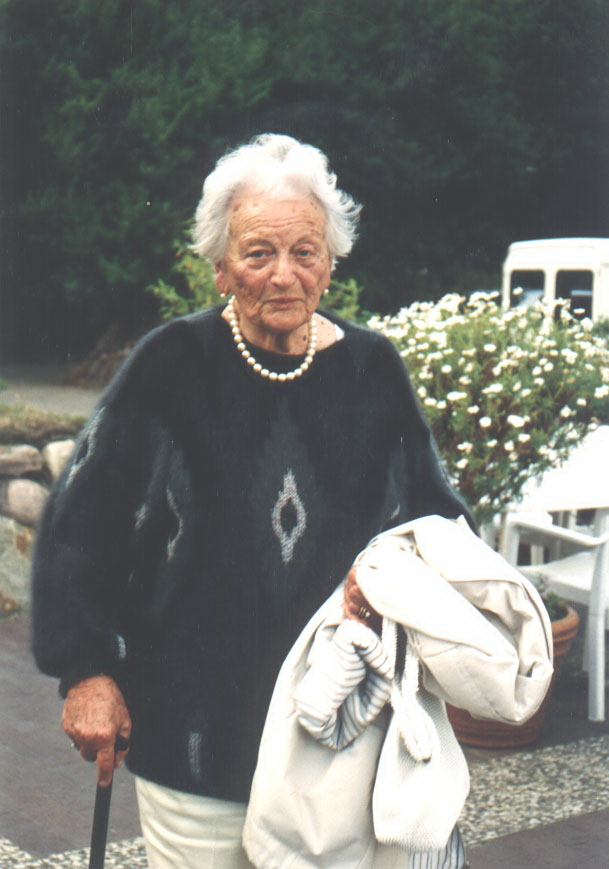 ---
The Pre-History
My father's fami­ly comes from Wuppertal. The grand­f­a­ther had a big butcher's shop, but when he died my father, who had trai­ned as a but­cher, was only 15 years old; too young to con­ti­nue the butcher's shop. The eldest son then ran the busi­ness, and my father, as the youn­gest off­spring, made the switch. The son fami­ly, on the mother's side, comes from the Bergisches Land, near Nümbrecht. The land­s­cape is very beau­ti­ful there.
Mom and Dad met at a fun­e­ral, in the ceme­tery. They mar­ried Christmas 1900 in Gelsenkirchen.
My mother and her bro­ther got mar­ried pret­ty much at the same time. He then went to Berlin and con­ti­nued his edu­ca­ti­on sin­ce he did­n't have much money at home. For a while, Mr. Sohn was also the chair­man of the bro­kers' asso­cia­ti­on in Germany. During the Nazi era he was remo­ved from office; he would be pro-Jewish. But after the war things picked up again for him. Professionally, he was a suc­cess­ful man.
My par­ents slow­ly mudd­led their way up. In Gelsenkirchen they first had a poul­try shop and an open shop whe­re they sold gre­at bis­cuits. But sin­ce they did­n't earn enough and the third child was born, my father star­ted a hau­la­ge busi­ness in Buhr. We moved. All I can remem­ber from Gelsenkirchen is the shop. Our first three child­ren were born in Gelsenkirchen and Hilde in 1906 in Buhr, whe­re we had an apart­ment on the lar­ge mar­ket squa­re. I can still see her lying in the pram. I was­n't jea­l­ous. I only remem­ber how once our grand­mo­ther, my father's mother, play­ed Santa Claus. With a mask over her face, she threw a bag of tre­ats through the win­dow. I got a ter­ri­ble shock, but after­wards ever­ything was fine again.
Hotel life
Since my mother was always a bit ill, we moved to the Rhine in 1907. With a mor­tga­ge and a small down pay­ment, my par­ents bought the Düsseldorfer Hof, a midd­le-class hotel in the town of Rolandseck. We reno­va­ted tho­rough­ly, we dro­ve the dirt out by the cart­load. My father was a tidy man and had a keen sen­se of beau­ty: Hilde inheri­ted that from him. A uni­que idea, for examp­le, was the Roland arch in the gar­den. We built it with lava stones from the fire-breat­hing moun­tain in Godesberg.
In the gar­den you sat under Spanish gra­pes. In the sum­mer, we child­ren used to stand on the chairs and nib­ble on them. There was also a cre­scent-style arbor in the gar­den. Four stairs led up. It was com­ple­te­ly sur­roun­ded by hedge roses and the­re were six tables for our guests to have cof­fee at.
When we moved to the Düsseldorfer Hof in Rolandseck, I was five, Robert was six and a half and Hilde was two. In one pho­to we four child­ren are stan­ding with our father in front of the arbor.
We had all kinds of fruit: sugar-sweet yel­low plums, app­les of para­di­se and peaches! When we ate them, the juice ran down our hands!
There were two small ponds for our ducks and geese. Between the two ponds lay a bed of flowers. A litt­le hig­her up in the gar­den we had goo­se­ber­ries, fenu­greeks and plums. My mother can­ned a lot of fruit: cur­rants, straw­ber­ries, sweet and sour fenugreeks…
If we cros­sed the street, we were right on the Rhine. However, the­re was still the gar­den of the rich peop­le. But down to the left you were right on the Rhine. That's whe­re the cof­fee ships sai­led: Cologne-Düsseldorf stea­mers. There were neit­her cars nor buses back then, so day trip­pers from Cologne and Bonn came to us on the cof­fee train or cof­fee ship and spent a lovely afternoon.
The sum­mers were hot. We were often out of heat and did­n't have to go to school. At the back of the gar­den we had three small, black and white che­cke­red houses, that was the chi­cken coop. The breeds were kept sepa­ra­te: small ban­tams that my father brought with him, red Icelandic and white Rhineland. The hen with the litt­le ones had an extra spot for them­sel­ves. My mother and the other women tra­ded the chi­ckens among them­sel­ves. When I was seven, we once had a wicked mother hen that would peck at the head of her chicks until they were dead. I can't for­get that. A mali­cious mother, that also exists in animals.
We also had a hun­ting dog, as well as a carou­sel and a slide.
And then the forest! In the forest, whe­re we were loo­king for wild straw­ber­ries and black­ber­ries, it was like a fai­ry tale. Otherwise, in the sum­mer we were always in the water: sun, water and forest, a very healt­hy time.
The win­ter, on the other hand, was hard. I fell on my butt at least ten times on black ice, but I could­n't say: "Teacher, it's black ice, that's why I can't come." I like the har­sh man­ners of the time. If you were late, you had to wait at the door for ten minu­tes. Then I was afraid of being late becau­se I did­n't want to stand at the door in front of the who­le class.
In order to attract lar­ger par­ties, my par­ents hired a dance tea­cher named Weisskirchen in the sum­mer. The first daugh­ters from Bonn and the sur­roun­ding area appeared, wrap­ped in white clothes, in our hotel for dance and eti­quet­te les­sons. Hilde and I, as inn­kee­per child­ren, wat­ched the goings-on from the door. I can still see the bal­let mas­ter in front of me: tall and slim, just like in the film! "And one, two, three, qua­dril­li­on everything…"
Later my par­ents foun­ded a car­ni­val asso­cia­ti­on. The head gar­de­ner of Consul Schnitzler from Oberwinter was the pre­si­dent. Another cha­rac­ter was Herr Bauer. Our club had exact­ly one car (!), not much com­pa­red to the city, but I found it much nicer. They dro­ve the car to Rolandseck, Rolandswerth, Rolandseck-Oberwinter. We had mee­tings in the evenings. We had a hall big enough for that. A lot was impro­vi­sed and the­re­fo­re did­n't have to cost a lot: empty beer bar­rels, planks and a car­pet over them and a table was rea­dy. The car­ni­val asso­cia­ti­ons from the sur­roun­ding area came to visit the mee­tings, which began in November. That ran until Shrove Monday. The mee­tings were fun­nier and less poli­ti­cal than today, all under the ali­as Kaiser.
The Emperor's Birthday
The Emperor's bir­th­day was on January 27th. In Oberwinter we per­for­med round dan­ces with the who­le school. All girls had long hair back then and we wore black and white hair bands to honor the emperor and cele­bra­te the day. The boys also wore a bow, ever­yo­ne was hap­py to take part. Discipline was just as strict as that of the sol­di­ers. As the tal­lest, I was always a wing­man. Then we sang, most­ly in three parts:
The Emperor is a dear man
he lives in Berlin…
or:
The flag is fly­ing black-white-red,
from our ship's mast…
The emperor's bir­th­day din­ner, it was always a topic: every year at a dif­fe­rent one in the hotel. Of cour­se, ever­yo­ne made an enor­mous effort. But then they all came. It was won­der­ful… a won­der­ful meal.. and ever­ything pos­si­ble was dis­cus­sed, what exact­ly I don't remem­ber today. It was always qui­te fun! I remem­ber that they always said that so-and-so always ate so much, I can still remem­ber that. And my mother always had to make hand­ma­de spee­ches. Lots of pre­pa­ra­ti­on; when we went to school in the morning, she was alrea­dy in bed and memo­ri­zing the pro­lo­gues. She did­n't like doing it, but: busi­ness, business…!
She even went to the Bütt in Cologne. Anyone who was in the Cologne Bütt back then was some­thing. My mother was tall and beau­ti­ful, she loo­ked gre­at. Once she left as a bunch of gra­pes. Wonderful! With a big hat full of gra­pes and a cos­tu­me in gol­den yel­low like the wine, and the­re were gra­pes ever­y­whe­re. Well, we as kids ado­red them. What our mother could do!
The New Year's Ball
Somehow a twen­ty mark pie­ce ended up in a Berlin bale. The per­son who found the twen­ty mark pie­ce was then ball queen or ball king. We baked so many Berliners! They used to cost five pfen­nigs. They always just ope­ned it up. I remem­ber that in one cor­ner ever­ything was full of Berliners. They only wan­ted the twen­ty mark piece.
The Battle Festival
The next day we fed the Berliners to the pigs. We had two pigs. We slaugh­te­red one of them in the spring and one in the fall, and then the­re was a slaugh­ter fes­ti­val in town every time. In such a small place you can always come up with some­thing to get peop­le involved.
The Bowling Club
And Friday came the bow­ling club. Then the­re were pota­to pan­ca­kes for the who­le column, becau­se we had ever­ything. We were a medi­um-sized hotel, not a fine one, becau­se they never have a bow­ling alley. As a result, we also had more sales.
The arri­val of the cof­fee ships
When ships came in the sum­mer.. they always cal­led my father the friend­ly gen­tle­man from the gas sta­ti­on, that was even in the news­pa­pers befo­re.. then he stood at the door and called:
"Come in ever­yo­ne, big zoo­lo­gi­cal garden!!"
People all came in and then the­re was always some­thing spe­cial: Homemade some­thing like this, home­ba­ked some­thing like that. One of my father's sis­ters was a won­der­ful baker becau­se she was a recep­tio­nist in qui­te a few roy­al houses. My mother was more at the buf­fet and wat­ched the money.
The begin­ning of the war in 1914
And sud­den­ly the war came. I can still see the hor­se. Then a hor­se rode up with the poli­ce and had orders for my father. He was only 38 or 39 with Krin. Every ten minu­tes someo­ne would walk past the tracks with a rif­le at their side. Since the mili­ta­ry moved a lot of mate­ri­al by train, it was important to pro­tect the rou­te against assas­si­na­ti­on attempts. The rail­road guards were not con­cer­ned with catching deserters.
The blind fanaticism
The enthu­si­asm among the sol­di­ers was bound­less: "Germany wins!!". They hung on the trains like gra­pes to get to the front as quick­ly as pos­si­ble. 40 years without war, final­ly the time had come. "Germany, Germany abo­ve all!" They pain­ted the trains, I've never seen such enthu­si­asm in my life as they did back then. And that will never come again. So many boys fell back then. My father was too rea­listic to fall into such pri­mi­ti­ve fana­ti­cism. He knew how to find pres­su­re posts, just like Philipp. Otherwise he would never have come back.
The com­mer­cial school in Bonn
We had an awful lot to learn! When I went to the busi­ness school in Bonn, I was alrea­dy on the train at six o'clock. There was only one train: at 6:10 am. First I wal­ked to the Rolandseck train sta­ti­on and then I wai­ted ano­t­her hour and a half in Bonn until school star­ted. There were more stu­dents in the wai­t­ing room. There were always more boys than girls. We lear­ned or we had fun. I was­n't afraid! I pre­fer­red to take part. We were around 15, 16, 17 years old.
a prank
At the train sta­ti­on the­re was a fur­ni­tu­re store with an old lady. We went in and I asked, feigning genui­ne inte­rest, "Do you have night pot­ties, too?" That was fun.
The kiss
Robert, my eldest bro­ther, always went with me. When he went to class he kis­sed the tea­cher first. He was such a hand­so­me, tall guy, and it was just for fun, it was­n't evil.
After school
In Hohenzollern, whe­re the first can­non was fired in Bonn, we some­ti­mes went to a café tog­e­ther after school, becau­se our train always did­n't return until three o'clock. School was usual­ly over at one o'clock, so we always had about two hours.
The cru­el penalties
The tea­chers were gene­ral­ly very strict and for­ced us to do an exces­si­ve amount of home­work. If someo­ne mes­sed some­thing up, they had to hold out their fin­gers and get hit with a stick. It hurt a lot. The boys were pul­led up by the hairs until they could­n't take it any­mo­re and yelled 'Ouch'. Robert got way too many hits but just laug­hed. Once his pants burst. He was wea­ring a pair of litt­le blue linen pan­ties. The tea­cher hit as hard as he could. There were built-in inkwells in the table, with a sli­ding lid, we did­n't know any foun­tain pens back then, and Robert cal­led out: "Mr. Teacher, Mr. Teacher, my Pillemann is han­ging in the inkwell!" His pants had burst. The tea­cher could have bro­ken him, but Robert would never have cried in his life. Man, Robert was tough!
The other bro­ther was good and nice. He was­n't that smart and had to learn more and har­der until he could final­ly do some­thing. Robert could do ever­ything and he never lear­ned. He knew almost everything.
How many times have I done the tasks for him! Actually only out of fear that he could be hit so bad­ly again, out of com­pas­si­on. My mother, of cour­se, could­n't deal with him at all, espe­cial­ly after my father was in the war.
I'm fine, your turnip!
Robert went into the army vol­un­ta­ri­ly at the age of 16, in 1916. My mother was part­ly hap­py, part­ly worried becau­se she did­n't know if and when he would come back. Sometimes he did­n't wri­te for three or four mon­ths and she often cried for him: "The boy died… the boy died…" She asked the bat­tali­on, the com­pa­ny. No, no, ever­ything would be fine. Suddenly a card came. Robert stands on a small field loco­mo­ti­ve and sho­vels coal.
"Dear mother, I'm fine, gree­tings, your turnip!"
The mise­ry during the war
Once, during the war, we went with the school to the Mount of Olives in the Siebengebirge. There we could hear the thun­der of Verdun. Stalingrad and Verdun are a bit simi­lar. One drank the other's piss to stay ali­ve. Awful.
When they retrea­ted, they were just racks.
In the last year of the war we were also hungry. Glad we had our dad! First he was with Trenk, hor­se sup­ply, and when the oppor­tu­ni­ty aro­se, he beca­me a but­cher. As he was working in Charleville, he would ask tra­velers if they would be so kind as to lend him their lea­ve card so he could mail a packa­ge to his fami­ly. So he was able to send us meat. He would send us fat or chunks of bacon wrap­ped in a bub­ble for camou­fla­ge and coo­ked it any­way. The hun­ger was so gre­at that nobo­dy can ima­gi­ne. You were also not allo­wed to tell anyo­ne that you had some­thing to eat.
And then, when the war was over, came the ter­ri­ble flu. 20 mil­li­on Germans died. In Cologne, the epi­de­mic was par­ti­cu­lar­ly devas­ta­ting. There was no medi­ca­ti­on or tre­at­ment. We lost the war and they cut ever­ything off from us.
The sol­di­ers also brought dys­en­te­ry with them. This dise­a­se cau­ses excru­cia­ting pain and you only have to go to the bathroom for six weeks. The only thing you can eat is mint tea and rusks. The dys­en­te­ry makes you total­ly exhausted.
The hotel beco­mes a hospital
One of the sol­di­ers had his leg ampu­ta­ted. Man who screa­med like cra­zy. The who­le hall was full of woun­ded sol­di­ers. The nur­ses and the hos­pi­tal were paid for by the sta­te. We got 50 cents for each bed. For a while that was my par­ents' only source of inco­me, but we also got food from the sol­di­ers' kit­chen. In the end, our fami­ly con­sis­ted of five children.
The end of the war
Yes, and then the last German sol­di­ers dro­ve back, so emacia­ted that the hor­ses almost fell over on the road. Once we sto­le a sau­sa­ge from a mili­ta­ry truck. She was as hard as a rock. It was impos­si­ble to eat them. How should our sol­di­ers feed them­sel­ves on such rati­ons? Who knows what stuff was in the­re! At times we even ate rats, rat liver sau­sa­ge from Hamburg. Hunger hurts. That was in 1918.
The last sol­di­ers dro­ve over on the fer­ry. Those who did not make it half­way across the Rhine were taken pri­so­ner. The who­le vil­la­ge stood by the Rhine and trem­bled for the last few sol­di­ers of ours.
Honnef was free. But we belon­ged to the arch of the bridge. Germany was divi­ded into French, American and English sec­tions. Some swam over to Honnef at night, into free­dom, to escape cap­ti­vi­ty. Robert the tur­nip some­ti­mes brought peop­le to Honnef by boat. He did a lot for other people.
In the second war he saved the who­le of Rolandseck. He locked ever­yo­ne in the cast­le. The train sta­ti­on was the­re then. Now it is a lar­ge muse­um of Bonn, under monu­ment pro­tec­tion. The fami­ly of Paul Vincent, my friend from school, had a restau­rant the­re. He and Robert had sum­mo­ned all the vil­la­gers to the cast­le. My bro­ther ran towards the Americans alo­ne, arms out­stret­ched, and cal­led out to them. I don't remem­ber what, but his English saved him. Not a sin­gle shot was fired in Rolandseck. They did­n't get anyo­ne out, he fought for the people.
The other day he was still in the news­pa­per, on the occa­si­on of his 80th bir­th­day. Many sent him cards and flowers. He did­n't know fear. Once the ship on which he was sai­ling went down. But he did­n't go down. He had this strong will to live.
My father came back from Russia short­ly befo­re the end of the war in 1918. He wore a long beard.
The American occupation
And when the sol­di­ers were half­way across the Rhine in the first war, the band play­ed Deutschland, Deutschland über alles and we cried. I did­n't know what to expect under the occup­a­ti­on. And the first check came up on the street, motor­bike with an attendant.
Rolandseck had about a hund­red inha­bi­tants; the­re were only vil­las and hotels. In the evening we had a gar­ri­son of two thousand men in town. In no time 35 sol­di­ers were in the house, the­re was no time to think. They wal­ked around the house giving inst­ruc­tions in English. Move beds tog­e­ther, four men here, three men the­re. We all had to go to one room. Father and mother had their own room with litt­le Leni.
But then we were very, very….. struck by how nice they were. On the first evening they brought a who­le bucket of lard.
Americans often ate sauer­kraut with bacon and jam. Afterwards we coo­ked for them too. My father slaugh­te­red hor­ses and cows. At that time they were run­ning around free­ly, they did­n't belong to anyo­ne. The Americans had suf­fe­red many hardships during the war and they tas­ted it twice as much. We had can­ned beans by the bar­rel. We bought stacks of cakes from friends in Bonn who had a lar­ge pas­try shop. We cal­led them foam shit becau­se the­re weren't many good ingre­dients back then: most of it was foam!
That's whe­re we made our first money. I lear­ned arith­me­tic at the buf­fet: one paid in francs, one in cash. Herbert inheri­ted a lot from him, for sure! He got up at 5 or 6 in the morning and wal­ked around. My mother slept lon­ger and stay­ed up later in the evenings.
The wine shop after the war
After all the work and trou­ble with the sol­di­ers and the nur­ses, my mother was ill. So we sold the old house, bought a new one and reno­va­ted it. It is no lon­ger ours, but it still stands today. It had a won­der­ful rock cel­lar with a lar­ge gate through which water ran down. We expan­ded this cel­lar and star­ted a wine shop. My father had alrea­dy star­ted tra­ding in wine during and short­ly after the war: he kept fal­ling on his feet!
Before us, the Mehler fami­ly had a Kuckie fac­to­ry in the house, as they used to call shoe polish. The Mehlers went to Cologne and had an auto­mo­bi­le agen­cy the­re. They later offe­red us a Renault agen­cy in Essen. We slaugh­te­red ever­ything, and whe­re the Kuckie were, wine was always packed in cra­tes. When I was rinsing bot­t­les and bott­ling wine, I was some­ti­mes soa­ked to the navel. There was litt­le labor after the war and we did as much as we could ourselves.
Gottschalk & Murmann against the rest of the world
We picked up bar­rels from the train sta­ti­on with the wagon. If it was no lon­ger pos­si­ble, I always had to come: "Irma, you have to come back! They can't get the bar­rel up the­re." I just said: "What?!… you can't get the bar­rel up the­re?…", put me down: "And one… two… hur­ry!" and the bar­rel was up. I had bear powers! Also at school, at the bor­der ball game, the girls most­ly won against the boys. When Amalie or I got the ball, the boys alrea­dy knew: we can't run as far as they throw the ball away.
Robert spent a year in Battenburg in a wine com­pa­ny to train as an office clerk. The litt­le bro­ther Erich went to the vini­cul­tu­re school in Ahrweiler. We had a litt­le more money then. I went to eco­no­mics school in Eisenach for a year. I came back in October 1920 and in January I met Philipp. By the fol­lowing October I was alrea­dy married!
The sum­mer of 1921 was incredi­b­ly hot, I loo­ked like a Negro! There was also a lot of fun with the wine shop. The Hotel Metropol in Königswinter only had one son named Thomas. You always wan­ted him to mar­ry Hilde. In the evening he dro­ve up in the boat, with a band and full of wine. We hung lan­terns and dro­ve up the Rhine with the illu­mi­na­ted boat and cha­pel. The moon was shi­ning, we dan­ced and had a lot of fun.
The house­hold school 1919/20
We were at the boar­ding school in Eisenach with 110 girls. It was also a semi­nar for domestic tea­chers. Everyone had their dai­ly sche­du­le, one did the broom clo­set, ano­t­her the hall­way… and then the­re was cof­fee! It was spar­se: malt cof­fee, two sli­ces of bread and jam, no but­ter. Then we had to work all day. I have remai­ned true to three of my friends from that time for the rest of my life. Leni Barbell and Frau Dokter came from Thuringia, and Peule from Heidelberg.
First we had coo­king, then tea­ching mate­ri­als. This was about the nut­ri­tio­nal value of flour, for examp­le. Slaughtering meat and making sau­sa­ges were also part of the pro­gram. We worked in groups of two. The basic rule was to always keep the table clean. The clas­ses were dif­fe­rent. Some only went for half a year, others two years. There are par­ents who say, 'The main thing is that the child is in good hands there.'
We had­n't heard anything about eight hour days. At noon and in the after­noon we had two hours free and went for walks, some­ti­mes inclu­ding natu­ral histo­ry les­sons. City lea­ve was limi­ted to one hour. Those who did not come back on time faced a cer­tain punish­ment. The boar­ding school was loca­ted on the moun­tain, on Bornerstrasse. It was a big, long buil­ding, and an extra buil­ding whe­re the tea­chers were trai­ned. We lear­ned par­ties, set the table and deco­ra­te. Since I was the only one from the Rhineland, it was my job to make car­ni­val deco­ra­ti­ons. We even took apart sewing machi­nes so we knew how they worked. Mrs. Börrlin hea­ded our class.
Trude the genius
One of my friends was Trude Herrmann from Berlin-Rathenau. Her hus­band retur­ned ill from the war and died. That hit her hard. I lear­ned more from her than from the who­le school, she was a geni­us. She was pro­bab­ly a few years older than me. She pain­ted, patched and coo­ked, she could do ever­ything. She was very quick with men. A man-hot nood­le she was! She pho­to­gra­phed and deve­lo­ped herself — that was very pro­gres­si­ve at the time. The thousand­th could not do that. Her paren­tal home was­n't over­ly rich, from home they had to make a s them­sel­ves!" She grab­bed a pen­cil, made a few sket­ches, bought black linen, wool and then she made the wri­ting case.
At her home, with her par­ents, she had made a hairdresser's toi­let out of wine cra­tes, and in no time at all she con­ju­red up a sofa cushion or a cube from silk and scraps of fab­ric. Personally, I may not have always been on the same page with her, but there's no deny­ing her genius.
Minna and the wrong cream
At boar­ding school we often laug­hed all night long. I real­ly lear­ned how to make cof­fee from the beau­ti­ful Peule Schmücker.
The others cal­led me Minna becau­se I had a good cha­rac­ter and was always wil­ling to help. I was balan­ced and fun. I was­n't allo­wed to make cof­fee, that made me angry. Nevertheless, I main­tai­ned diplo­ma­tic silence. Most lik­ed me. Sometimes they sang for me.
Irma, you are my sun, hol­lahia­ho
ever­ything screams bliss, hollahiaho
Of cour­se Trude knew how to make fake cream again and I "obtai­ned" the things she nee­ded in the kit­chen: whisk, bowl, semo­li­na flour…
adven­tures in the city
Twice Trude and I stay­ed in town over time to meet boys. We got caught. One of our direc­tors was cal­led jel­ly­fi­sh becau­se it was so fat and the other hors­e­fly, appar­ent­ly the effi­ci­ent one…
Trude with the big mouth! Now that it was important, she said: "You go in, you go in!" — "Yes, I'll go in," I said, "she won't kill me!" The direc­tors scold­ed us and we were punis­hed cur­few for weeks.
Others went out at night, we stood on the bal­co­ny and waved when the coast was clear to come back. There were curious girls among us who wan­ted to expe­ri­ence some­thing. Fifteen-year-old Lole from Vienna, howe­ver, was nai­ve. She had a sin­gle room and was pro­bab­ly from a very rich fami­ly. With the cand­le she stood out­side on the bal­co­ny while below the young men from the high school sang:
the women of the world,
are worse than money
with her love…
Lit by the cand­le, Lole in her flim­sy negli­gee was a gor­ge­ous sight for the suitors.
The visit to the capital
After boar­ding school I visi­ted my uncle in Berlin for three weeks. That was in November/December 1921. He always wan­ted to adopt me, he was so fond of me. Of cour­se, I also met my friends from Berlin. One was from Charlottenburg and one from Oranienburg. Drinking cof­fee at Café Kranzler. I don't know how I mana­ged to get through the sub­way. A won­der. My mother's bro­ther, Willi Sohn, orde­red a clair­voyant. He asked Ms. Rose: "What will hap­pen to my Irmchen?" She loo­ked at me: "Next Christmas Irmchen will be mar­ried. She will mar­ry well and have three child­ren." And that's how it happened.
Appendix
Pictures of Rolandseck and the Murmann family
Catherine card, by Nikolai v. astu­din
Rolandseck, Nonnenwerth Island and Siebengebirge
The Murmann fami­ly mana­ged the white Düsseldorfer Hof from 1907
Rolandseck, in the gar­den of the Düsseldorfer Hof around 1910
(from left to right: Erich, Lisette, Hildegard, father Robert, Irma, son Robert)
The par­ents
Father Robert Murman
Born June 14, 1876 in Wuppertal-Elberfeld,
died May 24, 1937 in Remagen.
Mother Lisette Murmann (nee son)
Born September 24, 1877 in Hupperichroth,
died November 20, 1925 in Godesberg.
The cou­p­le mar­ried in Gelsenkirchen in December 1900 and had five children.
The child­ren of the Lisette and Robert Murmann family
Son Robert Murman
Born September 2nd, 1901 in Gelsenkirchen, died in Rolandseck around 1990.
Daughter Irma Murman
Born April 1, 1903 in Gelsenkirchen, died June 5, 1994 in Mettmann
Son Erich Murmann (with mother Lisette)
Born September 17, 1904 in Gelsenkirchen, died in Rolandseck around 1950
Daughter Hildegard (Hilde) Murmann
Born February 23, 1906 in Buhr, died in Bochum around 1980
Daughter Lieselene (Leni) Murmann
Born June 29, 1915 in Rolandseck, died August 2, 1954 in Berlin
---
How this pam­phlet came about
I com­pi­led the text based on an inter­view from 1981. I taped the inter­view with my grand­mo­ther, who had a gre­at talent for sto­ry­tel­ling and to share her event­ful life with others.
Twelve years later, on the occa­si­on of Grandma Irma's nine­tieth bir­th­day, on April 1, 1993, I tran­scri­bed the inter­view and pre­sen­ted it as a gift.
In 2002, Margot Rudolph-Gather revi­sed the text. In the appen­dix we have added some pic­tures of Rolandseck and the Murmann family.
I wish all rea­ders a lot of fun dis­co­vering a time long gone.
Berlin, March 2004
John Philipp Gather