I like the descrip­ti­on of the efforts ongo­ing in Ukraine to bring to jus­ti­ce Russian war cri­mi­nals — the num­ber of peop­le invol­ved and col­la­bo­ra­ting here gives me hope that jus­ti­ce will be pos­si­ble. I am gra­te­ful for each per­son invol­ved in this effort, for the many wit­nes­ses who cou­ra­ge­ous­ly share their sto­ry, so pain­ful, and reli­ve it in the pro­cess and hope you can find inspi­ra­ti­on here too. I could not make out who is the wri­ter, an attri­bu­ti­on to Agence Press (AP) and FRONTLINE is at the end. — John Gather
---
Prosecutor General Iryna Venediktova glan­ces at her cell pho­ne. The stark num­bers and bare-bones accounts that unre­el in her hand are just the start; her staff will cata­log them, inves­ti­ga­te them — and try to bring the Russian per­pe­tra­tors of war cri­mes to justice.
This is her pur­po­se: To make Vladimir Putin and his for­ces pay for what they have done. While courts around the world are working to hold Russia accoun­ta­ble, the bulk of the inves­ti­ga­ti­on – and the lar­gest num­ber of pro­se­cu­ti­ons – will likely be done by Ukraine itself.
For Venediktova, this is personal.
"I pro­tect the public inte­rest of Ukrainian citi­zens. And now I see that I can't pro­tect the­se dead kids," she says. "And for me it's pain."
The first woman to ser­ve as Ukraine's pro­se­cu­tor gene­ral, Venediktova speaks with stee­ly resol­ve and occa­sio­nal humor, and approa­ches her task with a relent­less work ethic.
Venediktova, a 43-year-old for­mer law pro­fes­sor, is on the move every few days, the jackets and dres­ses of her old life incre­a­singly repla­ced by oli­ve fati­gues and a bul­let­pro­of vest. She takes meals hur­ried­ly in the car or skips them entirely.
There are no office hours any­mo­re. There are only war hours, which start ear­ly and end late, as Associated Press repor­ters who spent a day with her would learn.
Her office has alrea­dy ope­ned over 8,000 cri­mi­nal inves­ti­ga­ti­ons rela­ted to the war and iden­ti­fied over 500 suspects, inclu­ding Russian minis­ters, mili­ta­ry com­man­ders and pro­pa­gan­dists — even as an array of inter­na­tio­nal war cri­mes inves­ti­ga­ti­ons pick up steam.
"The main func­tions of the law are to pro­tect and to com­pen­sa­te. I hope that we can do it, becau­se now it's just beau­ti­ful words, no more rule of law," Venediktova says. "It's very beau­ti­ful words. I want them to work."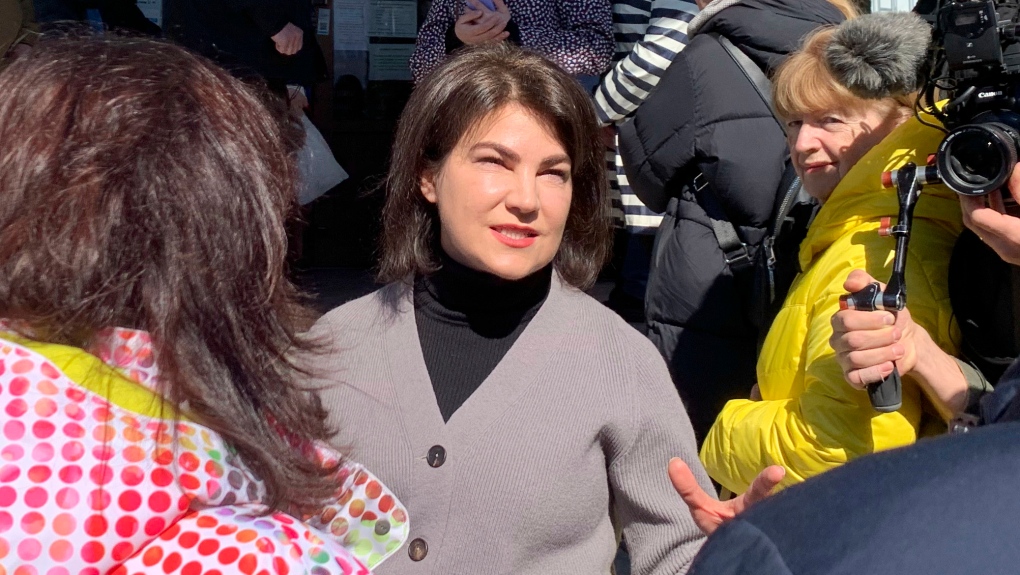 __
On a Tuesday morning, Venediktova mar­ches up to a thick line of refu­gees wai­t­ing in the chill sun to regis­ter at a district admi­nis­tra­ti­on buil­ding in Lviv. Her secu­ri­ty detail, armed and dres­sed in black, hovers as she step­ped into the crowd of women and children.
Venediktova has sta­tio­ned pro­se­cu­tors at refu­gee cen­tres across the coun­try and at bor­der cros­sings, try­ing to collect the shards of suf­fe­ring of mil­li­ons of Ukrainians and trans­form them into fact and evi­dence befo­re they vanish.
Venediktova sweeps ups­tairs, down a nar­row hall­way to a bare room with two lar­ge black desks that she calls "the heart of the war cri­mes office" in Lviv. Her war cri­mes unit has around 50 dedi­ca­ted pro­se­cu­tors, but she's repur­po­sed all her staff to focus on that mission.
Many don't want to show their faces publicly. There are gra­ve ques­ti­ons of secu­ri­ty, both for her peop­le and the infor­ma­ti­on they collect. Prosecutors here tend to speak of the future with grim prag­ma­tism. It's not just the unpre­dic­ta­bi­li­ty of war; it's a tacit ack­now­led­ge­ment that they them­sel­ves might not be around tomor­row to finish what they've started.
Prosecutors ply the line of refu­gees at Lviv's cent­re each day, loo­king for wit­nes­ses and vic­tims wil­ling to sub­mit a state­ment. Some sto­ries are not told. People have come too far, they're too tired. Or sca­red. Their infants are fus­sing. They have pla­ces to go.
Interviews can take hours. Bent over lap­tops, pro­se­cu­tors wait out people's tears to ask what the shel­ling sound­ed like, what kind of spray muni­ti­ons made on impact. They ask what uni­forms, what insi­gnia sol­di­ers wore. This is the raw mate­ri­al of accoun­ta­bi­li­ty, the first link in a chain of respon­si­bi­li­ty Venediktova hopes to con­nect all the way to Russia's leadership.
Ala, 34, sits with pro­se­cu­tors and exp­lains how she'd lost her home. She doesn't want her last name publis­hed becau­se her 8‑ye­ar-old daugh­ter remains trap­ped in Russian-held territory.
Ala pro­mi­ses to return with a frag­ment from a mor­tar that des­troy­ed her apart­ment in Vorzel, a town a few kilo­me­tres west of Bucha. She'd collec­ted the metal, den­se and grey in her hands, as a memen­to of what she'd sur­vi­ved. And as evidence.
"We need pro­of for them to be punis­hed," she says. "I am lucky. I am still here to talk about what hap­pen­ed to me."
___
Shortly befo­re noon, Venediktova lea­ves the refu­gee cent­re and clim­bs into a black SUV hea­ded to the Polish bor­der, an hour or so north. A poli­ce escort speeds her through a land­s­cape of rough houses and the win­te­ry bones of trees, past old ceme­te­ries, rus­ted children's swings, the shi­ning domes of church­es. The only signs of war are defi­ant bill­boards pro­c­lai­ming vic­to­ry for Ukraine and death to the enemy, and check­points with sand­bags and hedge­hog bar­ri­ca­des to stop tanks that have not yet come.
Venediktova knows the­se roads well. She rides them end­less­ly back and forth to meet for­eign offi­cials who don't dare ven­ture into a coun­try at war.
"I live in a car actual­ly," she says. "I need help, sup­port, advi­sers. I need peop­le who under­stand what will be next."
Her office coope­ra­tes clo­se­ly with pro­se­cu­tors from the International Criminal Court and near­ly a dozen coun­tries, inclu­ding Poland, Germany, France and Lithuania, all of which have ope­ned cri­mi­nal inves­ti­ga­ti­ons into atro­ci­ties in Ukraine.
She has taken on high-level legal advi­sers from the U.K. and is working with the United States and the European Union to build mobi­le inves­ti­ga­ti­ve teams with inter­na­tio­nal exper­ti­se. Clint Williamson, a for­mer U.S. Ambassador-at-Large for War Crimes Issues, hel­ps over­see that effort, which is fun­ded by the U.S. State Department.
"We have to con­front this," Williamson says. "There's a need to show that coun­tries are deter­mi­ned to stand up for inter­na­tio­nal huma­ni­ta­ri­an law and hold peop­le so fla­grant­ly vio­la­ting it accountable."
Part of their task now is to make sure that the evi­dence being collec­ted is up to inter­na­tio­nal stan­dards, so the tes­ti­mo­ny of peop­le like Liudmila Verstiouk, a 58-year-old woman who sur­vi­ved the sie­ge of Mariupol, won't be thrown out of court.
Venediktova meets Verstiouk in a makes­hift office at the Krakivets cros­sing on the bor­der with Poland. She arri­ved from Mariupol with her papers, her pho­ne and the clothes on her back – a velour dress, black sto­ckings, white win­ter boots. Her apart­ment was bom­bed on March 8, and she told pro­se­cu­tors that when she fled, she left her 86-year-old father behind in the bur­ning buil­ding. He has Alzheimer's and can­not walk.
Verstiouk says she spent a week shel­te­ring at Mariupol's dra­ma theat­re. She left the day befo­re bombs kil­led an esti­ma­ted 300 peop­le there.
She has not been able to reach anyo­ne who was insi­de by pho­ne. Or her father.
"Why did Russia attack me?" she says. "It des­troy­ed my city — for what? For what? Who will give me an ans­wer to that, and how do I go on living?"
In the cour­se of a five-hour inter­view, pro­se­cu­tor Stanislav Bronevytskyy takes Verstiouk's state­ment. "She can remem­ber every detail, each minu­te and second," he says.
He types out Verstiouk's sto­ry and uploads it to a cen­tral database.
___
Vast swaths of Ukraine have been trans­for­med into poten­ti­al crime sce­nes. Each day, the tra­ge­dies mul­ti­ply, crea­ting an insur­moun­ta­ble pile of facts that must be estab­lis­hed and saved.
There is far too much work even for the more than 8,000 staf­fers who work for Venediktova. Back from the bor­der by mid-after­noon, Venediktova con­ti­nues her cam­pai­gn for sup­port, on Zoom calls with Amal Clooney and a group of inter­na­tio­nal donors.
When President Volodymyr Zelenskyy appoin­ted Venediktova, in March 2020, she inheri­ted an office plagued by alle­ga­ti­ons of cor­rup­ti­on and inef­fi­ci­en­cy and a legal code out­side experts have said is bad­ly in need of reform.
She has pit­ched herself as a refor­mer. Thousands of pro­se­cu­tors have been fired for fai­ling to meet stan­dards of inte­gri­ty and pro­fes­sio­na­lism, and so she's got an office that is not ful­ly staf­fed pre­pa­ring war cri­mes cases against what she pre­dicts will be 1,000 defendants.
Venediktova has been buil­ding alli­an­ces with human rights groups – some of which have a histo­ry of ant­ago­nism with Ukrainian aut­ho­ri­ties — and an often-distrust­ful public.
In March, a group of 16 Ukrainian civil socie­ty groups for­med the 5AM Coalition to docu­ment poten­ti­al war cri­mes. In addi­ti­on to ana­ly­zing open-source mate­ri­al, they mana­ge net­works of trai­ned moni­tors who gather evi­dence across the coun­try to share with prosecutors.
They're joi­ned by rese­ar­chers around the world, at pla­ces like the Centre for Information Resilience, Bellingcat and the International Partnership for Human Rights, who have been scou­ring the flood of social media postings to veri­fy what hap­pen­ed and who is responsible.
Venediktova also has encou­ra­ged ordi­na­ry citi­zens to help by collec­ting infor­ma­ti­on with their smart­pho­nes and sub­mit­ting it online to warcrimes.gov.ua. Five weeks into the war the­re were over 6,000 submissions.
Artem Donets, a cri­mi­nal lawy­er who joi­ned the ter­ri­to­ri­al defence for­ces in Kharkiv, says he is part of a Telegram group of 78 lawy­ers who are all pit­ching in on evi­dence-gathe­ring, picking up inci­dents that pro­se­cu­tors and poli­ce may not have time to get to.
"We are a law bat­tali­on," he says.
On the day he spo­ke with the AP, Donets had gone out to docu­ment the latest attack on civi­li­an infra­st­ruc­tu­re in Kharkiv. He found hims­elf in front of his own home.
As usu­al, he pul­led out his mobi­le pho­ne. He took GPS coor­di­na­tes and trai­ned his came­ra on a cra­ter in the asphalt, tra­cing its shape with his fin­ger. "Damage to the faca­de of the buil­ding," he said in a flat, pro­fes­sio­nal voice. "Destruction of glass, win­dows, doors."
Donets repor­ted fin­ding a rocket from a clus­ter muni­ti­on sti­cking out of the ground 100 metres away. Cluster muni­ti­ons split open and drop bom­blets over a wide area and have been ban­ned by over 100 coun­tries. Using such indiscri­mi­na­te wea­pons in what was a resi­den­ti­al area with no Ukrainian mili­ta­ry pre­sence could count as a war crime.
He sends his inci­dent report to the International Criminal Court and uploads it to Venediktova's database.
"It was qui­te a strike for me," Donets says. "I hope when this war ends to build a bet­ter house for me and my fami­ly. I hope. We have no opti­ons. Either we win this war, or we will be occu­p­ied and swept from history."
___
The hor­rors Venediktova and her net­works of allies are docu­men­ting – mass gra­ves, appa­rent assas­si­na­ti­ons of civi­li­ans, indiscri­mi­na­te shel­ling, repeated attacks on hos­pi­tals, for­ced disap­pearan­ces, tor­tu­re, sexu­al vio­lence, cities under sie­ge, denied food, water and huma­ni­ta­ri­an aid – are not new.
Putin's mili­ta­ry and his pro­xies have used simi­lar tac­tics in Chechnya, Georgia, Syria, Crimea and the Donbas regi­on of eas­tern Ukraine. Despite years of copious docu­men­ta­ti­on, Western powers never real­ly pushed back.
That chan­ged at 5 a.m. on Feb. 24, when Russia star­ted drop­ping bombs on its neigh­bour. Those years of unans­we­red atro­ci­ties now weigh on Venediktova.
"I was a uni­ver­si­ty pro­fes­sor, and for me rule of law wasn't just a song. When I spo­ke with my stu­dents about rule of law, about human rights, I actual­ly trust in this. And now I feel that what I trust, it does not work," Venediktova says. "Maybe we should take the best minds in the legal sys­tem, in juris­pru­dence of the world and crea­te some­thing new."
In the mean­ti­me, she has a more con­cre­te objec­ti­ve: money.
As evening falls, she sits with her depu­ties in a dar­ke­n­ing room and asks for ano­t­her espres­so. The jar­ring notes of an inex­pe­ri­en­ced cla­ri­ne­tist waft in from a music school next door.
Venediktova's team reports on pro­gress in their ongo­ing search for the over­seas assets of war cri­mes suspects. One of her prio­ri­ties is to sei­ze the money of war cri­mi­nals and give it to vic­tims. She will need coope­ra­ti­on from coun­tries around the world whe­re Russian suspects have stas­hed their wealth. Many coun­tries can't legal­ly sei­ze assets for a for­eign court.
Ukraine is also crowd­sour­cing this glo­bal tre­a­su­re hunt, with a por­tal in English, Russian and Ukrainian, whe­re anyo­ne can upload tips about assets .
There is, of cour­se, an even big­ger pri­ze that lies just out of reach: Hundreds of bil­li­ons of dol­lars of Russian assets fro­zen by the U.S., E.U., U.K., Switzerland and others. Maybe one day that too could be used to fund recon­struc­tion and repa­ra­ti­ons in Ukraine.
Shortly befo­re 9 p.m., Venediktova appears on natio­nal tele­vi­si­on, as she does most evenings. She reas­su­res her peop­le that guilt will be punis­hed and suf­fe­ring compensated.
"My first joy will be vic­to­ry when we sell someone's vil­la, yacht, and our ordi­na­ry Ukrainians, who were for­ced to flee their homes, will phy­si­cal­ly recei­ve this com­pen­sa­ti­on," she says. "Thank you, good evening, see you soon."
___
This sto­ry is part of an ongo­ing inves­ti­ga­ti­on from The Associated Press and FRONTLINE that inclu­des the War Crimes Watch Ukraine inter­ac­ti­ve expe­ri­ence and an upco­m­ing documentary.