Stephen Robbins Schwartz (1949-1993) was an author, publisher and retreat leader. He received a B.A. in literature from Brandeis Unversity and an M.A. in education from the State University of New York.
He practiced communication-based compassion in the 1980s and 1990s – for self and others – creating inner clarity and consciousness about what is thinking and what is present in the body – reconnecting to life. He also assisted participants in retreats or individual sessions to find peace about those pockets of pain which still linger even after much inner work.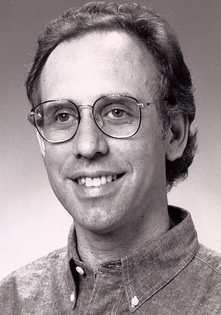 I wish to create this page for Steve, to the best of my abilities, to celebrate his contribution and to make it more available to a community of people, to whom his work might be of interest. I did not know him personally, however. Please contact me if you have stories or information that you might wish to include on this celebration page. May his work find many friends.
Books
Doors to Peace (1987)
The Compassionate Presence (1988)
Angelic Dialogues (1993)
---
Doors to Peace (1987)
Stephen Schwartz was inspired by A Course in Miracles and held talks at events organized by the Foundation for Inner Peace, where he spoke with no prior concept about spiritual matters. Some transcripts of recordings of his talks are published in the book Problems Are the Doors Through Which We Walk to Peace (1987).
---
The Compassionate Presence (1988)
He describes his method in The Compassionate Presence (1988). My understanding is that what Steve practiced as Compassionate Presence aligns closely with Empathy as Marshall Rosenberg, Martin Buber, Thich Nhat Hanh, Carl Rogers and Robert Gonzales and many others understood it. I like to see how different people were able to teach and practice compassion. I wish to include some excerpts from both books soon an this page.
---
Prayer of the Body (1992)
Sy Safransky published three articles about the work of Steve in the online newspaper The Sun, united under the heading "Prayer of the Body". I present a few excerpts here, along with a reading of an interview he gave near the end of his life, in 1992.
The Work of Stephen Robbins Schwartz
Compassionate Self-Care – Exerpts
An Interview with Stephen Schwartz
---
Angelic Dialogues (1993)
Compiled in the last year of Stephen Schwartz's life, Angelic Dialogues (1993) chronicles dialogues that Stephen had with participants of retreats from around the United States of America. It reveals the depth of spiritual experience and compassion that Stephen brought to his work with participants. From the forward by Dr. Arnold Katz: "I believe that Stephen's work represents a unique development in our capacity to enable human awareness and understanding . . .One of Stephen's notable acheievements in what he calls "angelic dialogues" is to have adapted the practice of presence to the "interactive space.". . .I have come to understand that Stephen's work represents a profound contribution to our understanding of what it means to be a human being and what it means to be truly helpful to another human being."
I second this opinion and happily present samples of his dialogues here:
1 – Compassionate Self-Care (introduction)
2 – The space we fall into (Dale and Steve)
3 – So there you are with yourself (Linda and Steve)
---
Steve died in Spring 1993. Read here the obituary for Stephen Schwartz by Sy Safransky.
---
Continuation – Robert Gonzales and the work of living compassion
Robert Gonzales appreciated Stephen's work, he must have seemed like a colleage to him. Robert told me he found out about Steve, after Robert had already found his own way to increase connection with human spirituality, inner and outer – so he was not influenced by Steve – but nourished.
Stephen's work seems to come from a deep trust, inner intuition and spaciousness. He models with great sensitivity and delicacy how to bring people into peaceful contact with need energies, with the felt-senses in their bodies. Meeting, accepting, sharing, letting in and letting through. His main focus are the living energies in the body, the feelings and they are felt in their dynamic aliveness, moment to moment. So for me there is a direct line from the work of Stephen Schwartz to the work of Robert Gonzales and all of us who further support this approach to life.
---
Although it is clear to me that Marshall Rosenberg focused on the same point of contact to spirituality – connection with life energies in the body and between bodies – Marshall, by working closer with the NVC process and its four steps, loses a bit of the immediacy that I feel present in Robert or Steve. To name the steps – needs, feelings, observations, requests – has both advantages and disadvantages, I find. On one hand it brings some wonderful clarity and orientation, on the other hand, one risks getting lost in the steps and thinking, rather than feeling.
Additionally Marshall had a push towards changing the world, which, as he himself realized, could become more of an obstacle to change, when not coming from a deep inner place of acceptance. Steve is focussed on inner violence, healing and peace.
I believe the most powerful resource and helpful orientation is peace in our heart.