Stephen Robbins Schwartz (1949–1993) was an aut­hor, publis­her and retre­at lea­der. He recei­ved a B.A. in lite­ra­tu­re from Brandeis Unversity and an M.A. in edu­ca­ti­on from the State University of New York.
He prac­ti­ced com­mu­ni­ca­ti­on-based com­pas­si­on in the 1980s and 1990s — for self and others — crea­ting inner cla­ri­ty and con­scious­ness about what is thin­king and what is pre­sent in the body — recon­nec­ting to life. He also assis­ted par­ti­ci­pants in retre­ats or indi­vi­du­al ses­si­ons to find peace about tho­se pockets of pain which still lin­ger even after much inner work.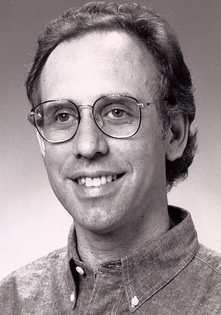 I wish to crea­te this page for Steve, to the best of my abi­li­ties, to cele­bra­te his con­tri­bu­ti­on and to make it more avail­ab­le to a com­mu­ni­ty of peop­le, to whom his work might be of inte­rest. I did not know him per­so­nal­ly, howe­ver. Please con­ta­ct me if you have sto­ries or infor­ma­ti­on that you might wish to inclu­de on this cele­bra­ti­on page. May his work find many friends.
Stephen Schwartz was inspi­red by the cour­se in mira­cles and held talks at events orga­ni­zed by the Foundation for Inner Peace, whe­re he spo­ke with no pri­or con­cept about spi­ri­tu­al mat­ters. Some tran­scripts of record­ings of his talks are publis­hed in the book Problems Are the Doors Through Which We Walk to Peace (1987).
He descri­bes his method in The Compassionate Presence (1988). My under­stan­ding is that what Steve prac­ti­ced as Compassiona­te Presence aligns clo­se­ly with Empathy as Marshall Rosenberg, Martin Buber, Thich Nhat Hanh, Carl Rogers and Robert Gonzales and many others unders­tood it. I like to see how dif­fe­rent peop­le were able to teach and prac­ti­ce com­pas­si­on. I wish to inclu­de some excerp­ts from both books soon an this page.
Compiled in the last year of Stephen Schwartz's life, Angelic Dialogues (1993) chro­ni­cles dia­lo­gues that Stephen had with par­ti­ci­pants of retre­ats from around the United States of America. It reve­als the depth of spi­ri­tu­al expe­ri­ence and com­pas­si­on that Stephen brought to his work with par­ti­ci­pants. From the for­ward by Dr. Arnold Katz: "I belie­ve that Stephen's work repres­ents a uni­que deve­lo­p­ment in our capa­ci­ty to enab­le human awa­reness and under­stan­ding …One of Stephen's nota­ble ach­eie­ve­ments in what he calls "ange­lic dia­lo­gues" is to have adap­ted the prac­ti­ce of pre­sence to the "inter­ac­ti­ve space."…I have come to under­stand that Stephen's work repres­ents a pro­found con­tri­bu­ti­on to our under­stan­ding of what it means to be a human being and what it means to be tru­ly hel­pful to ano­t­her human being."
I second this opi­ni­on and hap­pi­ly pre­sent sam­ples of his dia­lo­gues here:
1 — Compassionate Self-Care (intro­duc­tion)
2 — The space we fall into (Dale and Steve)
3 — So the­re you are with yourself (Linda and Steve)
Robert Gonzales appre­cia­ted Stephen's work, he must have see­med like a col­leage to him. Robert told me he found out about Steve, after Robert had alrea­dy found his own way to work with spi­ri­tua­li­ty — so he was not influ­en­ced by Steve — but nou­ris­hed. Stephen's work seems to come from a deep trust, inner intui­ti­on and spa­cious­ness. He models with gre­at sen­si­ti­vi­ty and deli­cacy how to bring peop­le into peace­ful con­ta­ct with need ener­gies, with the felt-sen­ses in their bodies. Meeting, accep­t­ing, sharing, let­ting in and let­ting through.
Although it is clear to me that Marshall Rosenberg focu­sed on the same point of con­ta­ct to spi­ri­tua­li­ty — con­nec­tion with life ener­gies in the body and bet­ween bodies — Marshall, by working clo­ser with the NVC pro­cess and its four steps, loses a bit of the immedi­a­cy that I feel pre­sent in Robert or Steve. To name the steps — needs, fee­lings, obser­va­tions, requests — has both advan­ta­ges and dis­ad­van­ta­ges, I find. On one hand it brings some won­der­ful cla­ri­ty and ori­en­ta­ti­on, on the other hand, one risks get­ting lost in the steps and thin­king, rather than fee­ling. Additionally Marshall had a push towards chan­ging the world, which, as he hims­elf rea­li­zed, could beco­me more of an obsta­cle to chan­ge, when not com­ing from a deep inner place of accep­t­ance. Steve is focus­sed on inner vio­lence, healing and peace.
I belie­ve peace in our heart is the most power­ful resour­ce and hel­pful orientation.