"There are peop­le who­se devo­ti­on is less to chan­ging lives for peop­le who need help than showing that they under­stand that racism and espe­cial­ly sys­temic racism exists." — McWhorter
In 2021 I had an expe­ri­ence of social can­cel­ling, discri­mi­na­ti­on, and pro­longued frus­tra­ting inca­pa­ci­ty to con­nect to a per­son I worked with clo­se­ly for 7 years. This per­son bla­med me for being unwil­ling to beco­me awa­re of social power struc­tures and their impact — which is the best I can tell — and cal­led me out on this wit­hin a small NVC com­mu­ni­ty, that had been tog­e­ther inti­mate­ly for many years.
I wan­ted to re-con­nect, to find a place for authen­ti­ci­ty and under­stan­ding bet­ween the two of us.
I tried for about a year, fee­ling inten­se con­ta­ct with unmet needs such as belon­ging, care, open­ness and respect. I tried many crea­ti­ve stra­te­gies, to no avail.
My asses­sor — the per­son I work with clo­se­ly in that pro­cess of cer­ti­fi­ca­ti­on — unders­tood what my expe­ri­ence was and also did not get past a big NO from that other per­son, who also ser­ves as asses­sor. My con­flict part­ner also let all of us know, that she was invol­ved in talks "at the CNVC" — I belie­ve it. Someone well con­nec­ted. And I see a para­digm shift in the CNVC — that is qui­te puz­zling to me — that loses touch with the fun­da­men­tals of NVC as shared by Marshall Rosenberg.
Previously, I had seen on a num­ber of occas­si­ons cer­ti­fied trai­ners and asses­sors in con­flict, unab­le to sol­ve tho­se con­flicts. A jack­al comes up rea­di­ly, say­ing — why? If they teach com­mu­ni­ca­ti­on — why can they not hand­le their own con­flicts? Well … I am okay with see­ing this as a sign of our vul­nera­bi­li­ty on heart level — this brings up incredi­ble deep for­ces and some­ti­mes we can­not find a way to con­nect. But … to be in that posi­ti­on mys­elf, with a per­son I trus­ted deeply, that real­ly made a dif­fe­rence for me in terms of wan­ting to be part of a community.
So I did my best, I put a lot or inner and outer resour­ces to over­co­m­ing the obsta­cle — NO.
There seems to be deep fear invol­ved, a huge wall of pro­tec­tion, pro­tec­ting some­thing like life its­elf.
I don't know.
I do not want to move into a house, when I know that the­re is a per­son not respec­ting my needs. They may well think that they respect my needs, but the impact on me is what I trust for mys­elf. I would like to live with an open and free heart, able to trust tho­se around me and for them to be able to trust me too.
I also noted that some core con­cepts of non­vio­lent com­mu­ni­ca­ti­on as I under­stand Marshall Rosenberg are under­go­ing chan­ge and new con­cepts I con­si­der to be jack­als are added. So the dis­con­nec­ting expe­ri­ence in a small group of beloved prac­ti­tio­ners fits into a lar­ger chan­ge in our NVC community.
I heard asses­sors talk about the myth of neu­tral obser­va­ti­on. For me a neu­tral obser­va­ti­on is not a myth. It is what occurs, when I can find a neu­tral lan­guage to descri­be some­thing avail­ab­le through my sen­ses or a thought (quo­ting it) — non-judg­men­tal descrip­ti­on. That may not be simp­le to do, as we human pro­du­ce judgments at the speed of light. It requi­res stop­ping and mind­ful­ness, perhaps trans­for­ma­ti­on of judgments. So that is one thing I cer­tain­ly do not wish to chan­ge for my under­stan­ding of NVC. I am hap­py to do things dif­fer­ent­ly from Marshall. Sure. But only if it makes sen­se to me.
Secondly, the cri­ti­cal race theo­ry, has blos­se­med into the cur­rent can­cel cul­tu­re, the woke cul­tu­re — whe­re peop­le can be ous­ted from their posi­ti­ons at uni­ver­si­ties or in job posi­ti­ons or as public figu­res for say­ing some­thing that is taken as racist, discri­mi­na­ting, abu­si­ve or poli­ti­cal­ly unac­cep­ta­ble. Books such as "Exit Racism" are a collec­tion of new social rese­arch most­ly from the USA, pro­bab­ly with the inten­ti­on to con­tri­bu­te to a more inclu­si­ve socie­ty. As they are writ­ten in jack­al, the oppo­si­te result will likely be the outcome.
Now this phe­no­me­non — the woke cul­tu­re I would call if for short — has arri­ved in the CNVC — I saw trai­ner wear a T‑shirt — Black lives mat­ter. Well, the­se words led to ano­t­her move­ment — All lives mat­ter. From my point of view, both are jack­al state­ments, in that they lack the cla­ri­ty of who is sharing their truth here. All truth is subjective.
Black lives mat­ter to me. For example.
People can easi­ly hear the mes­sa­ge like this: Black lives mat­ter! And white lives do not.
Same for terms such as — peop­le of color. Some ratio­na­le might be in the­re, that works for some peop­le. Many others are irri­ta­ted. Who am I, when I am Asian? White or not white? And do I want to be cal­led a per­son of color? And is the­re an impli­cit bla­me against white peop­le — why are they not inclu­ded in the colors?
The who­le idea is very much a North-American pro­duct. In Uganda, for examp­le, dif­fe­rent groups of black peop­le hold more or less power and it is not based on a dif­fe­rent color. The same for the for­mer Soviet Union, whe­re most­ly white peop­le lived and the edu­ca­ti­on star­ted with unders­co­ring bro­ther­hood and sis­ter­hood for all from the start. Racism in that world would work only if app­lied to the group of capi­ta­lists and who­ver is defi­ned as an enemy of the peop­le. And how about China or India? As I hear from one of my best friends, who grew up the­re — India at this moment is at sca­le 8 from 10 on the path of geno­ci­de. Here the divi­de is along reli­gious groups.
What is hap­pe­ning? Man's ani­mo­si­ty for man.
I like the­se words, which I heard Martin Luther King say in his preaching — Love your enemy. Intense emo­ti­ons rise and we can­not hand­le them for our­sel­ves, so we crea­te enemy images. The more pain­ful our emo­ti­ons in the gui­se of enemies, the more we do not want to feel our fee­lings, the more dan­ge­rous it beco­mes for other human bein­gs. Marshall would pro­bab­ly say — Killing them is not enough. Because tho­se emo­ti­ons are insi­de of us, we need to learn how to take care of our­sel­ves, with the help of others perhaps, but we need to learn how to take care of tho­se chal­len­ging emo­ti­ons. Accept and embrace them, own them.
As of 2022 the con­cept of pri­vi­le­ge is inclu­ded in the cer­ti­fi­ca­ti­on packa­ge. I do not want to invest ener­gy at this point in dis­cus­sion with peop­le about this — I may chan­ge my opi­ni­on — right now I do not wish to do it.
All in all — Marshall died in 2016 — and the world has chan­ged a lot sin­ce then. Donald Trump has had a per­ma­nent almost dai­ly trig­ger line to many many peop­le, using the tac­tics of bla­me and shame, punish­ment and reward — wate­ring the seeds of anger, hat­red, fear and greed. The Floyd case has trau­ma­ti­zed so many over a video in the media, that has been mul­ti­plied one mil­li­on times, wate­ring the seeds of anger, hat­red and fear as well. We have seen esca­la­ting vio­lence world wide in the hearts of human bein­gs, on the part of gover­ments. The CNVC has also seen inner splits — with trai­ners like me — more tra­di­tio­nal — and tho­se who are inspi­red by the social rese­arch men­tio­ned above.
The lin­gu­is­tic pro­fes­sor McWorther sees the cur­rent poli­ti­cal deve­lo­p­ment on the poli­ti­cal left as a new kind of reli­gi­on, for the deni­al of tra­di­tio­nal values from sci­ence that he sees in it. It is based on core beliefs, beliefs of a sys­tem, that is made to explo­it peop­le and it is white men who are sit­ting at the top of it.
Intersectionality is an ana­ly­ti­cal frame­work for under­stan­ding how aspects of a person's social and poli­ti­cal iden­ti­ties com­bi­ne to crea­te dif­fe­rent modes of discri­mi­na­ti­on and pri­vi­le­ge. The term was coi­ned by Kimberlé Crenshaw in 1989. Intersectionality iden­ti­fies mul­ti­ple fac­tors of advan­ta­ge and dis­ad­van­ta­ge. Examples of the­se fac­tors inclu­de gen­der, cas­te, sex, race, eth­ni­ci­ty, class, sexua­li­ty, reli­gi­on, disa­bi­li­ty, weight, phy­si­cal appearan­ce, and height.These inter­sec­ting and over­lap­ping social iden­ti­ties may be both empowe­ring and opp­res­sing. (from Wikipedia)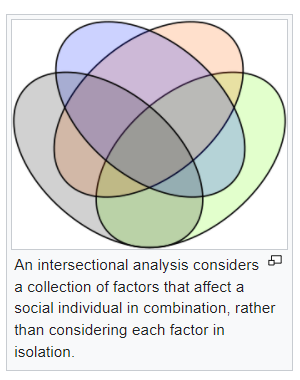 So in this theo­ry an indi­vi­du­al is view­ed not as a wond­rous human soul, approa­ched with an open heart and mind, but through the fil­ter of iden­ti­ties — star­ting with male or female.
I have no idea what it means to be male or fema­le — I would like to ask in the here and the now. Seeing our­sel­ves as sepa­ra­te is an illu­si­on — how can we be male or fema­le alo­ne? We have two par­ents and our par­ents have two par­ents — who is male and who is fema­le? And why? Is it even defi­ned in a phy­si­cal sen­se, what gen­der means — let alo­ne in a felt sen­se? Role models like John Wayne — Marshall kept a pic­tu­re of this Hollywood star in his office, whe­re he had mul­ti­ple arrows in his upper body and says: "It just hurts when I laugh." — are just offe­ring us a dead tem­pla­te, to which we can com­pa­re ourself or to which we can aspire.
Furthermore — any con­struc­tion with the verb "to be" — is fun­da­ment­al­ly vio­lent, try­ing to free­ze some­thing that is utter­ly dyna­mic, a con­stant flow — life. I am X or Y — You are X or Y — Marshall was very clear on that. How is it that this insight seems to have vanis­hed from NVC circles?
I will stop here for the moment and finish this arti­cle later.