"Between what is said and not meant, and meant and not said, most of love is lost."
-Khalil Gibran
The sim­pli­ci­ty of the words of the poet Khalil Gibran speaks to me. I want to remem­ber to try to share mea­ning often — in spea­king and hea­ring. Thich Nhat Hanh points out that love is under­stan­ding.

So to under­stand and to be unders­tood, that is whe­re most "love" is lost.

Indeed, is it not so that misun­derstan­ding is the nor­mal situa­ti­on in our dai­ly com­mu­ni­ca­ti­on?
How often am I spea­king without actual­ly knowing what it is, that I want?
And how often do I hear what I want, ins­tead of that which is asked to be heard?
---
On a record­ing of an International Intensive Training Marshall Rosenberg refers to the dan­ger of words — that we tend to belie­ve words on the sur­face, losing the deeper mea­ning they are car­ry­ing in real life. To bring across the dif­fe­rence bet­ween word and mea­ning, Marshall cites Alfred Korzybski, who used an ana­lo­gy from the field of geo­gra­phy: "A map is not the ter­ri­to­ry" to point out the phe­no­me­non, that a word is not what it refers to, but it points to some­thing. The signi­fier (word or other sign) is not the signi­fied (mea­ning, object).
---
The artist Rene Margueritte drew a pipe and sub­tit­led it with "This is not a pipe."

What is going insi­de of you, when you see the pic­tu­re and read the phrase?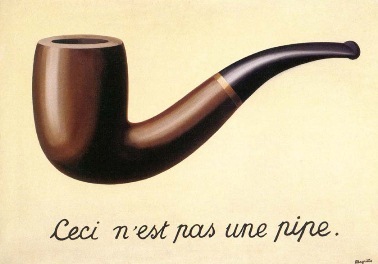 I enjoy his play­ful way of approa­ching the topic of form and con­tent.

Hope you enjoy­ed the­se litt­le gems too!